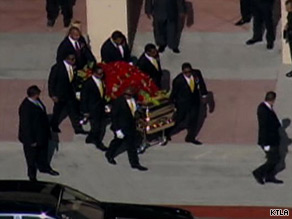 LOS ANGELES, California (CNN) -- Michael Jackson's body has arrived at the memorial service at the Staples Center in downtown Los Angeles.
Jackson's family and closest friends attended a gathering at Forest Lawn Memorial Park in Hollywood Hills on Tuesday morning before going to the public memorial.

Jackson's family and friends were at the chapel, which can hold about 1,000 people. Seven carried the golden casket covered in red flowers from Forest Lawn's Hall of Liberty.

"It wouldn't be fair for the fans who are going to appear and be here at the Staples Center not to see his casket," Teddy Riley, a singer who worked closely with Jackson on several albums, said.

An army of fans poured in to Los Angeles from places far-flung, hoping to collectively mourn their idol in a massive ceremony.

Thousands appeared to be on hand, but the atmosphere was peaceful, almost festive. People waited patiently, talking to each other, taking pictures and singing Jackson songs. Some fans were excited, others somber, as they entered the arena.

Parking lots in the area raised their prices, some as high as $30. Airports in Southern California saw a spike in bookings. And several movie theaters in the area announced special screenings of the event, which also will be carried live by some television networks and Web sites.

Police put up concrete barriers around the center, allowing only fans with tickets to the star-studded event to enter.
The first fans -- those holding the best seats -- began entering the arena at 7:30 a.m. The service is set to start at 10 a.m. (1 p.m. ET).

Deka Motanya, a San Francisco, California, woman who won tickets in the computer lottery, posted a message on Twitter just before 9 a.m. saying she had reached her "not-too-bad seats." "(M)ichael jackson music playing. people filling in; very organized w/ assigned seats" her message said.

The stage is set up on one end of the Staples Center's converted basketball court.

Wide steps lead up from both sides and two transparent podiums are posed on either side. Drums sit in the background and small floral arrangements rest against the front of the stage, where three rows of chairs form a semicircle.

The total cost for security at the event is estimated to be between $2 million and $4 million, said Matt Szabo, spokesman for Los Angeles Mayor Antonio Villaraigosa.

The city, in the midst of a budget crisis, will foot the bill, said Councilwoman Jan Perry last week. But it needs help. By the time the memorial begins, about 3,000 officers will be at the Staples Center site, police said.

Until the last minute, the Jackson family remained tight-lipped about where the singer will be buried, but signs pointed to Forest Lawn Memorial Park in Hollywood Hills after several carloads of people, La Toya Jackson among them, visited the cemetery Monday.

The Staples event is expected to feature singers Mariah Carey, Usher and Stevie Wonder.

Also participating will be basketball stars Kobe Bryant and Magic Johnson; singers Jennifer Hudson, John Mayer and Smokey Robinson; and activists Martin Luther King III and the Rev. Al Sharpton, according to an announcement released on behalf of the Jackson family.

Two notable absences will be actress Elizabeth Taylor, a longtime Jackson friend, and Debbie Rowe, Jackson's former wife and the mother of his two older children.

Taylor, in a message posted on Twitter and verified by CNN, said she declined an invitation to speak because she "cannot be part of the public whoopla."

"I just don't believe that Michael would want me to share my grief with millions of others," Taylor tweeted. "How I feel is between us. Not a public event."

Rowe planned on attending but decided against it, said lawyer Marta Almli.

"The onslaught of media attention has made it clear her attendance would be an unnecessary distraction to an event that should focus exclusively on Michael's legacy," Almli said.

Fans congregated in downtown Los Angeles, outside the Staples Center regardless of whether they had tickets.

On Monday, organizers used a computer to choose 8,750 names from 1.6 million people who registered for tickets online. Each received a pair of tickets, for a total of 17,500 tickets.

Just 11,000 of those are for seats inside the arena. The other 6,500 are for viewing the memorial telecast across the street at the Nokia Theater. The Jackson family set aside an additional 9,000 Staples Center seats to give out, organizers said.

Two fans waiting to get in to the service Tuesday were surprised at their good fortune.

Michelle Mann and Basra Arte, both 18, flew in from Vancouver, British Columbia, to honor Jackson. They stood outside the Staples Center, brimming with excitement and celebrating the generosity of a complete stranger.

The two had appeared on Canadian television and said they planned to fly to Los Angeles for the memorial service even though they didn't have tickets. Six hours before their flight, 15-year-old Karlo Karanan, who'd seen them on TV, tracked them down and gave them his.

"I'm looking forward to being in the presence of other fans," Arte said. "The energy is going to be amazing."

Related Post