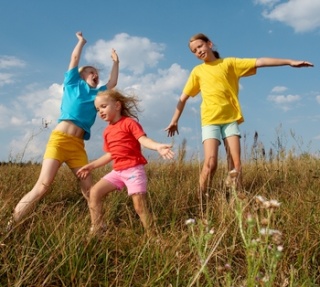 When summer holidays come around and it's the weekend there are hours and hours to kill. It can be hard to think of things to fill those hours, especially when small children have such a short attention span. Here are four simple, yet engaging ideas for activities to take part in with your kids...

Gardening

This may be something that a lot of us don't get into until middle age, but you'd be surprised how good children as young as three or four can be at gardening. Start off with something simple, but also something that gives great results. Lettuce, for example, is very easy to plant and it grows quickly so your kids will stay interested. Teach them that placing seeds in a covered pot with damp tissue and placed on a warm windowsill will make them sprout quickly. Then teach them how to transfer them to soil carefully and when it's grown, eat it for lunch!

Make an Insect Zoo

Perhaps skip this one if you're scared of creepy crawlies. Showing your fear to children at a young age could pass it onto them, so leave this to friends or your partner!

Building your own worm farm could become a project for the whole summer. It'll teach the nippers a bit of woodwork, but also biology and how to be more economical in the home, if you use it to get rid of kitchen waste.

Also, try collecting chrysalises and keeping them in a safe container until they grow into butterflies. Many places actually sell netted tubes designed for keeping insects like butterflies and grasshoppers. Ask your kids to give them names, help clean them out, draw them each week and take note of their size.

Go Exploring

For children, the realms of reality and imagination are very much interlinked, and there's no harm in diving into their world of fantasy every now and then. Go bear hunting in the woods with jars of honey to lure them in, or spend the day at the bottom of the garden with nets, looking for fairies to catch. Perhaps the nicest thing to do with very little kids is take them to the park with a picnic and their favourite teddies. Sing the song and tell them stories about teddies when you get there and then let them run around in the playground while you soak up the sun.

Make a Water Slide

Last but not least, kids in the summer love to play with water. In fact, they love it all year round, but when it's hot and the day is long, spraying on some sun lotion and letting them cool down outside in their swimsuits is one of the most fun things you can do.

If you have a long stretch of grass in your garden, and you can get hold of a long piece of tarpaulin then lay it on the ground. You could secure it with tent pegs if it has holes but make sure before anyone slides down it that the pegs are deep in the ground and not popping up where a stray toe or finger could get caught. Next, pour a bit of bubble bath all the way down the tarpaulin, rubbing it in so it covers the whole thing. That way when you get the hose and point it so it's spraying downwards it'll become extra slippery. If you're on a slope, even better. What happens next I think you know... just take a slow run up and slide!
Related Post