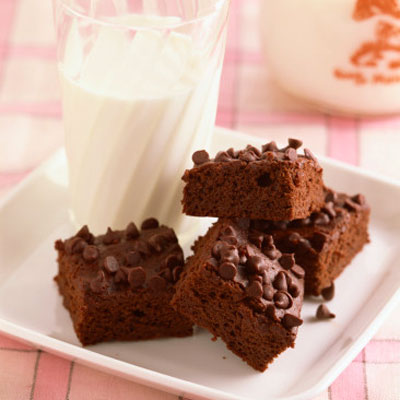 Trick or treat!
... Yup Halloween party arriving soon ...
Various preparations, including the dishes or snacks would have us prepare at home. But sometimes we forget, the sweet snacks such as cakes, brownies, candy can interfere with our health.
You do not need to worry, there is a tasty snack but do not harm the health, Brownies Mini Bites
, Shed 40 calories and 3 grams of fat from your favorite sweet Sinful lightened by using this recipe. Our sneaky Substitutions? Reduced-fat milk, unsweetened cocoa, and only a smidgen of butter. Add in chopped walnuts to get omega-3 fatty acids and a nice Nutty flavor, and if you're Bringing these to a party, place a candy corn in EACH brownie as They cool for a festive effect. Let's try to make your own Mini Bite Brownies
Prep: 10 minutes; Cook: 12 minutes.

Ingredients

1/4 cup butter
3 tablespoons semisweet chocolate minichips
3 tablespoons 2% reduced-fat milk
1 teaspoon vanilla
1/4 cup all-purpose flour
2 tablespoons unsweetened cocoa
1/8 teaspoon baking powder
1/4 teaspoon salt
1/4 cup sugar
1 large egg
4 tablespoons flaked sweetened coconut or coarsely chopped walnuts (optional)
Powdered sugar (optional)
Preparation
Preheat oven to 350º.
Line a 12-cup minimuffin pan with paper liners. Combine butter and chocolate chips in a small saucepan over low heat, stirring frequently until melted. Remove from heat; stir in milk and vanilla.
Whisk together flour, cocoa, baking powder, and salt in a large bowl; stir into chocolate. Combine sugar and egg in a bowl and stir into chocolate mixture. Spoon batter into muffin cups.
Bake 7 minutes. Top each brownie with 1 teaspoon coconut or walnuts, if desired; bake 5 more minutes. Cool on rack. If you didn't top with coconut or walnuts, sprinkle with powdered sugar.
source : Health, SEPTEMBER 2007
Related Post