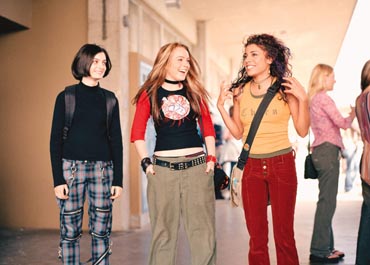 Look attractive and follow emerging fashion, of course, already become a separate trend for teenagers. The current model of woman's clothing, is no longer with muted colors, or just use just one color so as not to crash. Now even the opposite, fashion model collision that was the trend among young people in Jakarta and Batam. This, has been a great pleasure for trend among teenagers who always follow the latest fashions, such as Hong Kong is very loved clothes.

Neni, clerk ID Girl Batam Center says, fashion apparel for young women who are fashion models in the collision. "Clothes are trendy teen clothes hongkong using bright colors and a collision between one color with another color," he explained. This short-haired woman gave an example, the clothes-line vertical yellow jackets combined with vertical stripes in green.

Obviously, these two colors do not match between t-shirts and jackets. However, current models are emerging among young people of Batam. So do not be surprised, if you see a teenager today, using the clothes that you feel 'strange'. Indeed so. While for the pants, underpants model press body with the tip of pants that is getting smaller, this is the most demand, were among the young. Besides hanging pants, still be an alternative for teenage girls.

Indeed pants jeans very comfortable with the material used and the best fit was taken to be stylish or leisurely walk with friends after school or study groups. Community child's slang, it must pay attention to detail garment worn. Actually, not just young women who pay attention to her appearance. Parents must also pay attention to the development and association joined their children, especially after the late teens.

Following fashion trends is fine, and does no harm. Provided that, not to be affected by the clothing styles are always up to date. By looking at the financial district the condition of the parents, not to force things that are not too priority in life.

However, once again follow the development model of legitimate fashion. But, do not let even one costume or a fashion victim. Because the style of dress should be adapted to the shape of the body and the activities that will be attended. Congratulations to follow current fashions trends. The more days are not only adult women who are pampered with the latest fashion. Any spoiled teenage daughter of the designers who understand the latest teen fashion.
Related Post