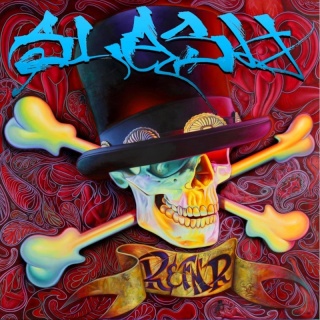 Saul Hudson (born 23 July 1965), better known by his stage name Slash, is a British-American musician.[2] Best-known as the former lead guitarist of the hard rock band Guns N' Roses, with whom he performed and recorded between 1985 and 1996, he later formed the eponymous Slash's Snakepit and co-founded Velvet Revolver with his former bandmates Duff McKagan and Matt Sorum. His debut solo album, Slash, is due to be released in 2010.

Slash has received critical recognition as a guitarist. In August 2009, Time Magazine ranked him #2 on its list of the "10 Best Electric Guitar Players of All-Time". He was also ranked #21 on Gigwise's list of the "50 Greatest Guitarists Ever".

Slash is the upcoming debut solo album by former Guns N' Roses and current Velvet Revolver guitarist, Slash. The album was produced by Eric Valentine (The All-American Rejects, Good Charlotte, Queens of the Stone Age) and is to feature multiple musicians including four of the five members of the Appetite for Destruction era Guns N' Roses lineup: Slash, Izzy Stradlin, Duff McKagan, and Steven Adler. Singer Axl Rose is the only member of that lineup absent from the Slash line-up.

Artist .................. : Slash
Title ................... : Slash
Release Date ............ : 2001
Genre ................... : Pop / Rock
Quality ................. : 192 kbps avg / 44.***z / Joint Stereo
Playtime ................ : 01:00:09 (83.MB)
Cover.................... : Front & Back

Tracklist:

1 Ghost - Slash & Ian Astbury
2 Crucify The Dead - Slash & Ozzy Osbourne
3 Beautiful Dangerous - Slash & Fergie
4 Back From Cali - Slash & Myles Kennedy
5 Promise - Slash & Chris Cornell
6 By The Sword - Slash & Andrew Stockdale
7 Gotten - Slash & Adam Levine
8 Doctor Alibi - Slash & Lemmy
9 Watch This - Slash & Dave Grohl/Duff Mckagan
10 I Hold On - Slash & Kid Rock
11 Nothing To Say - Slash & M Shadows
12 Starlight - Slash & Myles Kennedy
13 Saint Is A Sinner - Slash & Rocco De Luca
14 We're All Gonna Die - Slash & Iggy Pop

http://rapidshare.com/files/370192174/SLSolo--menGong_IDWZ--.rar.001
http://rapidshare.com/files/370202780/SLSolo--menGong_IDWZ--.rar.002
http://rapidshare.com/files/370213915/SLSolo--menGong_IDWZ--.rar.003

Use HJ Split for join all files.
Related Post