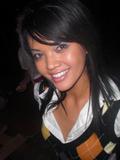 Farah Quinn, also known as the sexy chef, has been a fan of the culinary arts since childhood. As a young girl she spent her days cooking and baking with her mother in their house in Sumatera. Farah started her professional career at Lydia's Pittsburgh, a famous Italian restaurant in Pittsburgh, Pennsylvania. During this time Farah attended Pittsburgh Culinary Institute where she studied all culinary manners with a focus on pastry.
Upon graduation Farah moved to Phoenix, Arizona where she took a position in pastry at the Arizona Biltmore Resort. Meanwhile Farah continued studying her passion by attending classes at World Pastry Championships and grabbing opportunities to study under such pastry moguls as Ewald Notter and Colette Peters. In 2005 Farah was fortunate enough to be invited to the G8 summit at Sea Island Georgia where she created specialty desserts for the likes of First Lady Laura Bush and other world delegates under the guidance of celebrity chef James Mullaney.
In 2005 Farah and her husband, Carson Quinn opened their own restaurant called Camus. Camus was awarded 4 stars for its cuisine as well as many other accolades. Farah gained much notoriety for her work there creating not only amazing desserts but fueling the ambiance with her glowing personality and knack for style. Farah likes being spontaneous and just loves to have fun. She loves traveling and working on Ala Chef as well as other projects. She enjoys hanging out with her friends in Indonesia or in the U.S. Farah takes great pride in being loving and devoted as both a wife and mother. Farah focuses her life on her family, faith, career and all the people around her that make her life so special.

Name : Farah Farhanah Quinn
Actress Name : Farah Quinn
Date of Birth : Bandung

Place of Birth : April 8, 1980
Height : 172 cm
Weight : 50 kg
Husband : Carson Quinn
Children : Armand Fauzan Quinn
Study : Pittsburgh Culinary Institute
Career :
l Host on Ala Chef Trans Tv since November, 2008
l Building Camus Resto, 2005
l Chef on Lydia's Pittsburgh, Pennsylvania
l Pastry chef on Arizona Biltmore Resort, Phoenix, Arizona
l Chef on G-8 organisation in Sea Island, Georgia, 2005
Farah Quinn Biography and Farah Quinn Sexy Photos for you ,This is It!!

=_blank>

=_blank>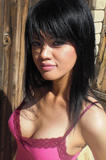 =_blank>

=_blank>
Related Post